…AND WITH THIS WE CLOSE
This e-mail came into my inbox this a.m., to which I added the comment below it;
YOUR INSIGHT OF THE DAY . . .
The results that you are achieving are a direct reflection of the image
of yourself you are holding. Improve the image and the improvement will
automatically be reflected in your results.
- Sandra Gallagher – President and CEO of Proctor Gallagher Institute
[my comment is]: I AM so glad that I AM and the continual improving result and image of myself are truly beyond the pale of "my" ability to hold an image of anything except I AM which is a direct reflection of I AM …and this is my simple religion which supersedes that of the Dalai Lama, the self-declared "simple monk" (by which, in his language, he means a man who is a brother to all other men and dependent upon their gifts of mercy) and who (the Dalai Lama) is the object of the religious worship of many who refuse his simple utterance of his being a mere monk.
…and this is not unlike those who refuse to accept the mantle of equality with Jay who declared/declares that we ARE equal …IF WE BELIEVE – by saying "I AM" we prove our belief in action. The refusal, he is (present tense) saying, "is blasphemy …avoid it, blasphemy is religious poison."
To make this even clearer, we must remember the words "Before there was an Abraham, I AM" and, therefore my religious duty, as I see it, is to proclaim: "Before there was any exalted thing or being (religious or otherwise) I AM."
_______
So then, to cap off my religious beliefs coupled with my deep interest in sharing with people just how I got from wherever to this:
The challenge about systems is that by adopting ANY system we replace an existing paradigm which was limiting – with another paradigm that is still limiting …just in another way.
YOU WITHOUT LIMITS free "Workshops" takes the person, who is ready to make the leap, beyond the limits of all models, systems and paradigms. The primary questions one must ask her/himself is do I really want to be without limits and what exactly does that mean to and for me?
Certainly such a prospect is not comfortable …for it takes us out of all existing paradigms, preconceived and predetermined ideas (derived from culture, education, influence of parents and other authority figures including, but not limited to religious leaders and teachers).
This is an escape to taking total responsibility for everything that happens to and around me with only ONE Teacher and Leader; …the essence of what the following historical figures taught and lived while occupying human body-bags; in the left-to-right order of their pictures below: Baha'u'llah, Jesus of Nazareth, Lao Tzu, Mohandas K. Gandhi, Moses, Muhammad, Paramahansa Yogananda, Saint Germain, Siddhartha Gautama and Zoroaster.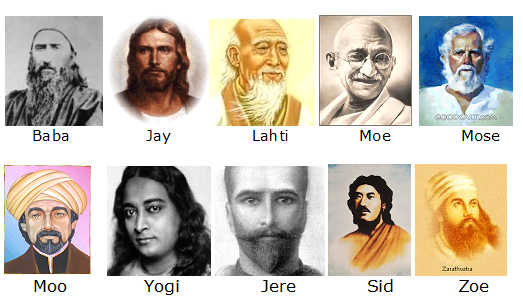 Each of the above men, including Jay, insisted that he is not the Leader and Teacher, but merely one of many spokespersons for the ONE who IS. Jay is the one who brought these other nine together in my consciousness. It is Jay who insisted that he not be held above any of the others and each of them resisted this idea at first and on one basis: Jay is the only one who purposely sacrificed himself for all of humanity. As I have stated many times over the past twenty years – "I didn't say it, he said it, therefore, if you want to take issue with it take it up with him.
What Christianity has done with this concept is anathema to what Jesus said/says related to this: How he puts it today for those willing to accept it: "This was to be the sacrifice to end all sacrifice."
There you have it: The religion of Brad Cullen in a nutshell. I AM not a bit lonely in my belief system nor am I uncomfortable or threatened if you think this makes me a total nut case.
The End
New Podcast: 144 – Tell the World PT 18
Share on Facebook